Bank of America reports that Bitcoin's movements in relation to other assets show signs that investors see it as a haven again, after a period when it was primarily traded as a risk asset.
A 40-day correlation of about 0.50 exists between Bitcoin and Gold, up from a correlation of about zero in mid-August. Although the correlations between the S&P 500 and the Nasdaq 100 are higher, at 0.69 and 0.72 respectively, they have flattened out and are now below record highs from a few months ago. Alkesh Shah and Andrew Moss, two BofA digital strategists, see that as a possible sign of change.
"A decelerating positive correlation with SPX/QQQ and a rapidly rising correlation with XAU indicate that investors may view Bitcoin as a relative safe haven as macro uncertainty continues and a market bottom remains to be seen."

the strategists wrote.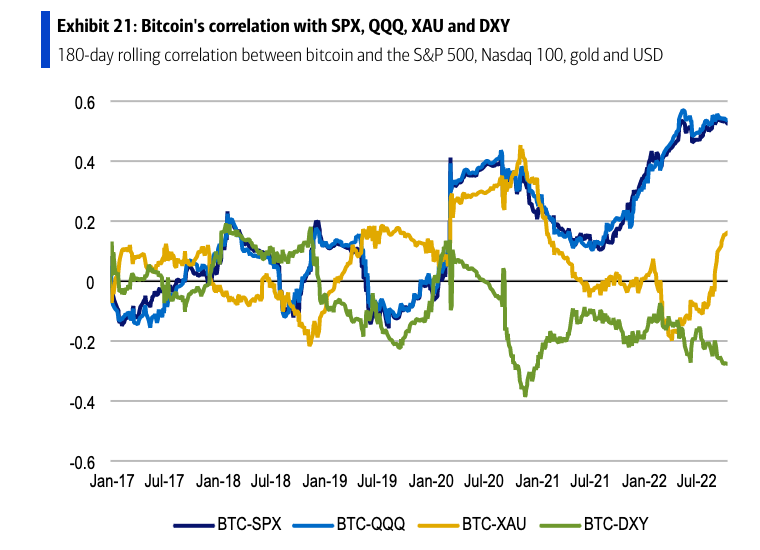 Over the past two years, as stimulus from the pandemic era flooded the global economy and then as central banks like the Federal Reserve raised interest rates to combat worsening inflation, Bitcoin has traded almost in lockstep with risk assets. This is in stark contrast to what crypto enthusiasts preach about Bitcoin and cryptocurrencies, which is that the fixed-supply asset could act as "digital gold," a haven free from the influence of decisions made by governments and central banks.
The BofA report is consistent with recent statements made by people like Mike Novogratz, who stated on Thursday that he views Bitcoin as "the canary in the coal mine" alongside gold and anticipates it to rally before other tokens, and Lauren Goodwin from New York Life Investments, who has said that Bitcoin and gold could both be perceived as a central-bank hedge.
Bitcoin Outperformed NFTs, US Stocks in Q3
According to CoinGecko's recent quarterly report, the total market capitalization of cryptocurrencies rose by about $100 billion, or 6.5%, in Q3 over Q2 overall.
BTC outperformed all asset classes except the U.S. dollar index, which gauges how much a basket of foreign currencies is worth in relation to the dollar, despite having a choppy third quarter. Although bitcoin's price declined along with U.S. stocks, it quickly recovered in comparison to the market and finished the third quarter with a -1% change in value.