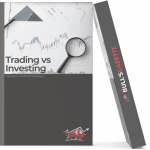 FREE Membership
+ eBook on
Trading vs Investing
Features
The government of El Salvador has created a Bitcoin/Lightning developer training program, which is being supported by VC company Fulgur and stablecoin issuer Tether. That is another another initiative demonstrating its support for Bitcoin adoption and network growth.
Crypto ads in Belgium must be accurate and warn investors of the risks, under new laws announced by the country's financial regulator Monday.
Coinbase, America's largest cryptocurrency exchange, anticipates a surge in staking withdrawal requests after Ethereum developers activate the feature next month. In discussing how the update could affect the company on Wednesday, Coinbase stated that it might take "weeks to months" to properly execute unstaking requests.
Charles Hoskinson, the founder of Cardano, says the cryptocurrency business should distinguish itself from the "unstable and erratic" financial sector. Hoskinson recently tweeted that crypto should avoid traditional banking since it is full of "unstable and unpredictable" entities.
Meta is trying to improve its business model with fewer workers and more efficiency —and moving the metaverse to a long-term vision.
STAY AHEAD OF THE MARKETS
Take things further with a TBG Membership
Bulls lead, markets follow.