Binance, one of the leading cryptocurrency exchanges, has unveiled a new offering aimed at individuals interested in Bitcoin mining but lacking the necessary equipment. The exchange announced the launch of subscription-based cloud mining products dedicated to Bitcoin mining. Starting from June 15, users can subscribe to the exchange's cloud mining services and purchase hashrates, which represent the computing power required to confirm and legitimize Bitcoin transactions on the blockchain.
Under the new service, the exchange is selling 1 Terahash per second (Th/s) at a price of $10.7280. This cost is divided between the hashrate itself and the associated electricity expenses, amounting to $1.17 and $9.558, respectively. The higher the hashrate, the greater the potential for earning Bitcoin through mining.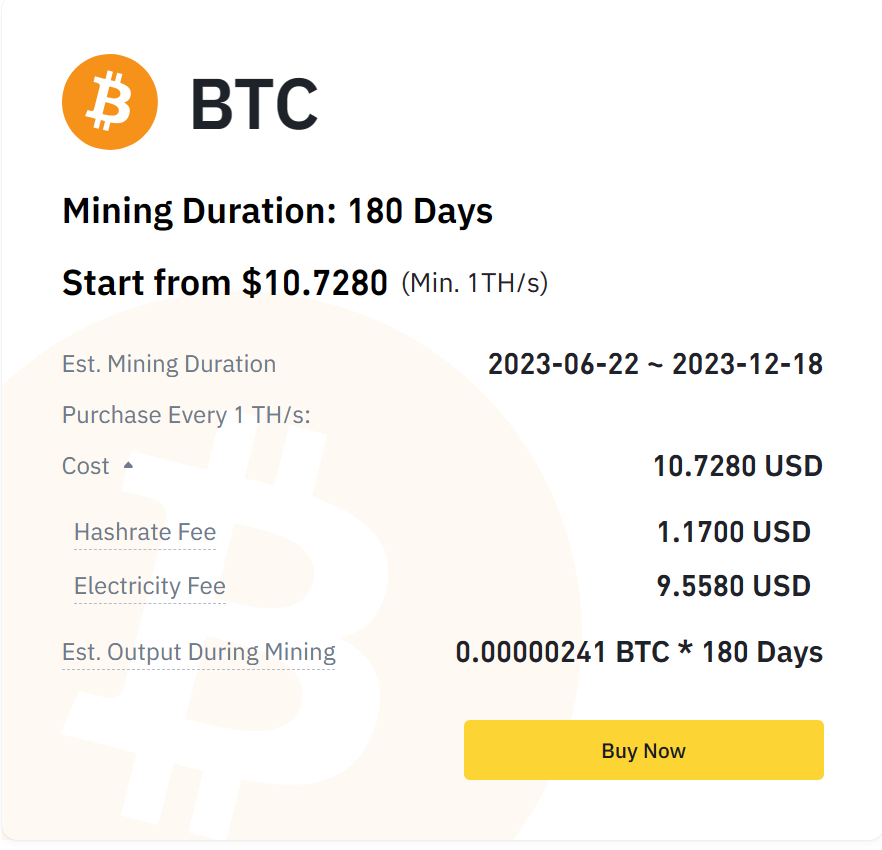 The exchange's BTC mining subscription service will be active for a duration of 180 days, equivalent to approximately six months. During this period, users can expect to earn 0.0004338 BTC for each TH/s purchased.
It's worth noting that the cloud mining service is not available to users residing in the United States, as clarified by the exchange in a previous statement. The exchange emphasized that Binance.com operates as a separate entity and its users are unaffected by issues surrounding Binance.US.
Binance Still Facing SEC Issues
In an effort to address the legal allegations it faces, the U.S. arm of the exchange, recently hired George Canellos, former co-director of enforcement at the U.S. Securities and Exchange Commission (SEC), as part of its legal team. This move comes as Binance faces scrutiny from the SEC, which accused Binance.US of operating as an unregistered exchange, broker, and clearing agency.
The legal proceedings have attracted attention and commentary from industry experts. John Reed Stark, former internet enforcement chief at the SEC, commented on Twitter, stating that the exchange is clearly preparing for a criminal prosecution and continuing to hire the best defense attorneys in the world. As a result of the regulatory actions by the SEC, Binance.US made an announcement on June 9 regarding the suspension of U.S. dollar deposits and the potential halt of fiat withdrawals, effective as early as June 13.